Whether he  is touring the decrepit sound mirrors near the shingle-laden beaches of Dungeness (see footnotes for photo credit) in southeastern England, or retracing the 1967 sojourn of American artist Robert Smithson's trip to the industrial hinterland of Passaic, New Jersey, or writing his interview with artist Sophie Calle from Calle's perspective, Brian Dillion deftly mixes  art and ideas with personal  narrative.
In this collection of 20+ essays gleaned from other magazines and journals, including Cabinet where Dillion is an editor, Objects in This Mirror: Essays (Sternberg Press, 2014) reminds those of us who dabble in this literary form why it is a "famously vagrant mode of writing:"
...with license to duck out of disciplinary constraints, to digress into the personal or the universal, to court specifics to the point, if artistic need be of eccentricity and even whimsy. but viewed from another vantage point, that of the jobbing critic or cultural journalist, "essay" names a bid for respectability: an effort to aggrandize occasional squibs, commissioned reviews, and dashed-off articles to the condition of quasi-literary monuments.
With the only exception being his (too) long essay, on the early 20th century photographer Jarcques Henri Lartigue, Dillion draws you in to any topic he tackles like a list of nine theses on slapstick comedy, or how those maniacs who vandalize art are often sane and more engaged with art than your average museum goer.  Like the essayists that he most admires (there is quite a rundown in the last chapter and an entire essay dedicated to Roland Barthes), Dillion is a mix of eclectic erudition and personal history wrapped in unpretentiousness.
 A worthy read.
Footnotes
I picked up my copy while browsing at Printed Matter, Inc. At $25, it was a little pricy considering it looked like it was printed in a garage. I wondered if it would hold through my reading and rereadings.  Surprising in a way, because Sternberg is a well-established publisher headquartered in Berlin. Moreover, photo of Dungeness requires a proper accreditation.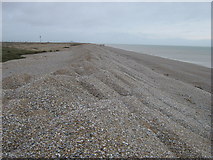 Shingle Beach towards Dungeness
  © Copyright
David Anstiss
and licensed for reuse under this
Creative Commons Licence
.